Days in Between
Marianna CHRISTOFIDES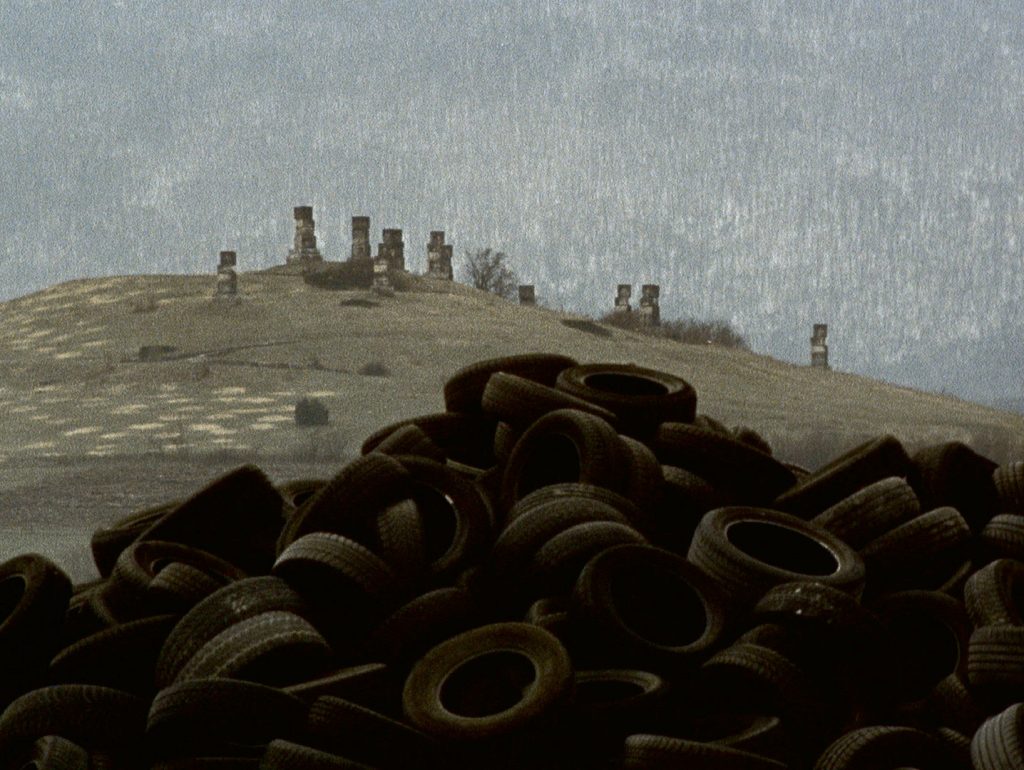 Filmscreening and Talk between Marianna CHRISTOFIDES (artist, Cyprus) and Andrei SICLODI (curator)
in the exhibition On the Natures of Things: Contingency—Resistiveness—Invisibility—Desire.
Days in Between (2015, 40 min., 16 mm film, digitally transferred) by Marianna CHRISTOFIDES reflects on anthropocene, post-industrial landscapes and stereotyped ascriptions of the Balkan region.
After the screening, Andrei SICLODI (curator) and the artist are discussing aspects of CHRISTOFIDES' essay film.
Afterwards the closing party of the Premierentage 2017 is taking place at the Künstlerhaus Büchsenhausen.
Marianna CHRISTOFIDES is an artist originally from Cyprus who lives in Berlin. In her film essays and filmic installations, she focuses on the juxtaposition of geological with socio-historical narratives, and the (mis)use of the notion of nature as a justifying argument towards contingent cultural facts. Since 2009, Christofides has exhibited extensively internationally and presented her films at numerous film festivals in Europe. Recent solo exhibitions include Parkfield Studies at the Temporary Gallery, Cologne (2017), Shelter Cove at Annaelle Gallery, Stockholm (2016), and Perennial Limbo at waterside contemporary, London. Most recent group shows have been Viaggio in Sicilia, Salinas Archaeological Museum, Palermo (2017), Dejima. Concepts of In- and Exclusion, GAK Gesellschaft für Aktuelle Kunst, Bremen (2017), Terra Mediterranea: In Action, Nicosia Municipal Arts Centre, Nicosia (2017), and Uncertain States. Artistic strategies in States of Emergency / Uncertain States. Künstlerisches Handeln in Ausnahmezuständen, Akademie der Künste Berlin (2016). In 2011, Christofides co-represented Cyprus at the 54th Biennale in Venice (together with Elizabeth Hoak-Doering).
mariannachristofides.com
Andrei SICLODI (*1972 in Bucharest) is a curator, writer, editor and cultural worker based in Innsbruck. He is director of Künstlerhaus Büchsenhausen in Innsbruck and founding director of the Fellowship Program for Art and Theory which takes place there. He is also editor of the publication series "BÜCHS'N'BOOKS – Art and Knowledge Production in Context" and producer of the monthly radio broadcast "Büchs'n'Radio" on Radio Freirad.
Location
Künstlerhaus Büchsenhausen
Weiherburggasse 13
6020 Innsbruck, Austria
+43 512 278627
office@buchsenhausen.at