The Documentary Uncertainty Relation
What is the documentary form? The question has been raised again and again over recent decades. According to Hito Steyerl, since there is no definitive answer, the only certainty is the uncertainty of the documentary forms and their traditional claims to truth.
The lecture was followed by a discussion between Alfredo Cramerotti and Hito Steyerl.
Alfredo CRAMEROTTI (*1967 in Trento, Italy) is an author and cultural producer based in the UK. He is engaged in a narrative-based practice that investigates notions of representation and reality across a variety of media. He works with writing (art and media critique, essays) and mass media. Cramerotti was co-curator of Manifesta 8, the European Biennial of Contemporary Art, in Murcia and Cartagena, Spain 2010/11 together with Khaled Ramadan as CPS (Chamber of Public Secrets).
Hito STEYERL, a filmmaker and author, lives in Berlin. Her book The Colour Of Truth: Documentarisms in the Art Field was published in 2008.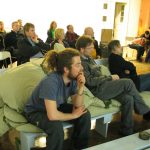 Location
Künstlerhaus Büchsenhausen
Weiherburggasse 13
6020 Innsbruck, Austria
+43 512 278627
office@buchsenhausen.at