enough is enough
A project by Petra GERSCHNER in cooperation with Künstlerhaus Büchsenhausen
Enough impositions – enough of the barely tolerable. It is time to question radically those stereotype iterations in politics and the media asserting that a social reality of exclusion and exploitation, that the logics of utilization, the given patriarchal and racist power relations and wars are unavoidable and simply fateful.
The project enough is enough intervenes by means of short statements in the privatized public space. On large-format LED video walls in the cities of Innsbruck and Wörgl, the project sets visual impulses and confident assertions against apparently incontrovertible norms. In this way enough is enough aims at visualizing contradictions, the constructedness of the "self-evident", and the development of potentials for solidary change.
(Text: Petra Gerschner)
enough is enough by Petra Gerschner is supported by the Tyrolean Government (Department of Culture) in the framework of TKI_open.
Opening:
Friday 13 July 2018, 19.00, OLYMPIAWORLD INNSBRUCK
at the Video Wall near the amusement park (Olympiastraße 10, Innsbruck)
Introduction: Andrei Siclodi
Duration of the spot and the venues of the LED Video Walls:
12 – 15 July: OLYMPIAWORLD, Innsbruck
12 – 18 July: DEZ EINKAUFSZENTRUM and WESTBAHNHOF, Innsbruck
TIROLER STRASSE, Wörgl and MIEMINGER STRASSE, Tarrenz
Petra Gerschner is an artist, filmmaker and curator living in Munich. The artist uses her photographic projects, video works and installations in public space to investigate the constructions of cultural, post-colonial and identity attribution as well as power relations that generate social inclusion and exclusion. The artist often responds to existing image constructs with her own staged presentations, visualising the methods and strategies of such systems and developing artistic forms and practices of intervention into contemporary social processes.
In 2013/14 she was Visual Arts Fellow at Künstlerhaus Büchsenhausen.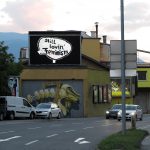 Location
Innsbruck, Wörgl and Tarrenz