There Is
Lena Ditte NISSEN
Filmscreening and Talk between Fellow Lena Ditte NISSEN and Andrei SICLODI (Curator)
Büchsenhausen-Fellow Lena Ditte NISSEN (*1987) will show fragments from the experimental short film There Is (dt. Es Gibt), which is still in the making and about German artist and film maker Margaret Raspé (*1933). Raspé's life and work are the fascinating example of a post-world-war female artist's biography, which began with a socialization in the Nazi time, and followed the path of a career of an avantgardist filmmaker and single mother of three children. In the early 1970s, Raspé invented the "camera-helmet" and with it, produced an outstanding series of films. Her friendship with artists and filmmakers, who she met in West-Berlin (such as the Wiener Aktionisten, Joan Jonas, Peter Kubelka, and others), shaped her life and work. Being a single mother of three children, practicing a lot of body-work (Yoga and Eutony) and overtone singing as well as working and living between Berlin Zehlendorf and Karpathos, Greece had a great impact on her thinking and art practice. Raspé's work has received renewed recognition in the last couple of years. Among other venues, her films have been shown in a retrospective program at the cinema Arsenale in Berlin. Margaret's film Let Them Swing, from the camera-helmet-series, was part of a special program on Feminist Film at the Berlinale 2019. Her films are archived by the Deutsche Kinematek.
This film is a reflection on the three weeks Lena Ditte Nissen and Margaret Raspé spent together in Raspé's house on Karpathos, Greece, during the summer of 2018. It focuses on the theme of automatism, which plays an important part in her artistic thinking.
The event takes places in the context of the Premierentage 2019.
The Danish-German artist and filmmaker Lena Ditte NISSEN (1987*, Munich) studied film and media art at the Academy of Media Arts Cologne, Universidad Nacional de Colombia and Kunstakademie Düsseldorf. Her films, performances and installations have been shown at international institutions and film festivals such as the Museo de Arte Moderno Rio de Janeiro, Bundeskunsthalle Bonn, Heidelberger Kunstverein, Museo del Banco de la República Bogotá, ACUD MACHT NEU in Berlin, the film museum in Frankfurt and Düsseldorf, KAI10 Athena Foundation, Rubenstein Art Center, CCA Center for Contemporary Art Tbilisi, the International Film Festivals in Edinburgh and Belo Horizonte, the CPH:DOX in Copenhagen, WNDX Festival of Moving Image, 25FPS Zagreb, Festival de nouveau cinéma Montréal and the Anthology Film Archive NYC amongst others. Lena has been in residence at SOMA Mexico, LIGHT CONE in Paris and lugar a dudas in Cali, Colombia.
In addition to her artistic career, Ditte Nissen has also curated various film and video programs since 2013 that have been shown at international venues including Cinemateca Nacional de Colombia and the FAR OFF fair for contemporary art in Cologne, Germany. In 2018 she held a studio scholarship at Bonner Kunstverein together with Alisa Berger, with whom she works in the artist-duo bergernissen.
Andrei SICLODI (*1972 in Bucharest) is a curator, writer, editor and cultural worker whose theoretical research focuses on forms of critical-emancipatory knowledge production in art. He is director of Künstlerhaus Büchsenhausen in Innsbruck and founding director of the Fellowship Program for Art and Theory which takes place there. He is also editor of the publication series "BÜCHS'N'BOOKS – Art and Knowledge Production in Context" and producer of the monthly radio broadcast "Büchs'n'Radio" on Radio Freirad.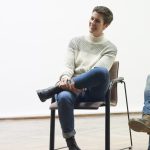 Location
Künstlerhaus Büchsenhausen
Weiherburggasse 13
6020 Innsbruck, Austria
+43 512 278627
office@buchsenhausen.at