Golden Genes—Or How Biobanks are Trying to Save All Living Things – Including You
a film by Ursula HANSBAUER, Wolfgang KONRAD and Clemens STACHEL // Screening and discussion with the filmmakers and the bioethicist Gabriele WERNER-FELMAYER
Golden Genes by Ursula Hansbauer, Wolfgang Konrad and Clemens Stachel will be screened and followed by a discussion between the filmmakers and the bioethicist Gabriele Werner-Felmayer on 28 March 2017 at Künstlerhaus Büchsenhausen. The screening will be taking place in the event series Follow-Ups, in which we are presenting former Fellows' works that have been initiated during but completed after their Fellowship at Büchsenhausen. Hansbauer and Konrad participated 2007-08 in the Fellowship Program. Back then they conducted their first clearance research concerning the range of topics around biobanks and living archives.
The documentary film Golden Genes embarks on an expedition to some of the largest, oldest and most contemporary archives of life—from the Svalbard Global Seed Vault in Spitsbergen, to the animal cell banks of the Fraunhofer Institute in Germany, and the largest biodiversity storage in the world in Shenzhen, China. Biobanks such as these are data centers in the global network of the genetic research community. The information that they generate from the DNA of various living organisms provides the basis of today's life sciences.
But biobanks do more than that. Within their freezers the boundaries between lifeforms are blurred. Fungal, bacterial, or human — it's all the same to the technology. Biobanks pose a fundamental question to humankind: what does it mean to be part of nature in the age of the genome?
Things that were unthinkable 20 years ago are discussed by scientists interviewed in the film as concrete research projects. The storage of every DNA molecule on the planet—an idea closely related to the century–old history of genetics—has now become a real possibility.
Caught somewhere between nature film and political documentary, Golden Genes outlines the enormous challenge that the comprehensive study of biodiversity presents to society, but also to our image of humankind.
The film trailer can be found here: Golden Genes Trailer
A discussion between the filmmakers and the bioethicist Gabriele Werner-Felmayer (Innsbruck Medical University) will follow the screening.
Golden Genes, Austria, 2016, 90 min; 16:9, Audio 5.1; Concept/Direction/Cut: Ursula Hansbauer, Wolfgang Konrad, Clemens Stachel; Camera: Leena Koppe; Music: Barbara Konrad and Klaus Lang; Voice: Eva Löbau (german version), Anne Kozeluh (english version). In distribution of filmdelights, Vienna.
Available for download starting 27 March 2017: www.goldengenes.net
Biographies:
Ursula Hansbauer studied conceptual art at the Academy of Visual Arts in Vienna and at the National Academy of Arts in Sofia.
Wolfgang Konrad studied at the School of Photography Friedl Kubelka in Vienna as well as conceptual art at the Academy of Fine Arts in Vienna and at the National Academy of Arts in Sofia.
Working together since 1999, Hansbauer and Konrad have realized numerous exhibitions and media installations. Recurrent themes in their work are the human–nature relationship, changing perceptions of life and nature through history as well as the political and societal implications of the life sciences. In 2007-08 Hansbauer and Konrad were Fellows at Künstlerhaus Büchsenhausen.
Clemens Stachel studied history and media sciences in Vienna and Lyon. He works as a freelance journalist in Vienna and has collaborated in different art and film projects.
Gabriele Werner-Felmayer is professor at the Biocenter of the Innsbruck Medical University, division of Biological Chemistry. Amongst other things she is an expert in the fields of ethics and misconduct in science and in interactions between science and society.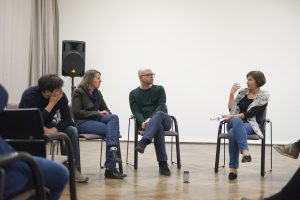 Location
Künstlerhaus Büchsenhausen
Weiherburggasse 13
6020 Innsbruck, Austria
+43 512 278627
office@buchsenhausen.at
Wed-Fri 11.00 – 18.00
Sat 11.00 – 15.00
◌ ◌ ◌*
Please note that the exhibition is
closed on public holidays and
on the following dates:
6 June, 22 June, 30 June 2018.