On Saturday, 15 October 2022, from 16.00 to 22.00, the artists working in Büchsenhausen – Patrick BONATO, Margarethe DREXEL, Elisabeth EITER, Judith KLEMENC, Isabel PETERHANS, Michelle SCHMOLLGRUBER, Nicole WENIGER and Benjamin ZANON – will open their studios and provide insights into the rich and diverse artistic production in Tyrol!
The Posters for this year's Open Studios Day were designed by the artists themselves. The posters were also produced in a small signed edition and can be purchased on this day in Büchsenhausen.
SPECIALS:
Presentations by the artists in the

Lab

, the exhibition space of the Künstlerhaus
Book Lounge: Browse and purchase books by the artists (

corridor, 2nd floor

)
Margarethe Drexel: Publication Release: Good Spirits in Transformation, Innsbruck, Milan, Los Angeles, 2022 (

studio

)
Nicole Weniger: Fanzine edition Souvenirs from Kosovo – Vulcania in Strellc and Schnaps fountain (

studio

)
Büchsenhausen Analog Photo Lab (BAPhL) goes public! The new analog photo lab presents itself – with lab tours and enlargement demonstrations (duration: 30 min) at

17.00

,

19.00

and

21.00

(

BAPhL

)
Benjamin Zanon: Sound performance G/H/ut drauf – ein musikalischer Abbruch (

21.30

)
Also: Food from feld:schafft – Genossenschaft zur Nutzung von Ungenutztem, drinks and sound by DJane Pixie on the Künstlerhaus terrace!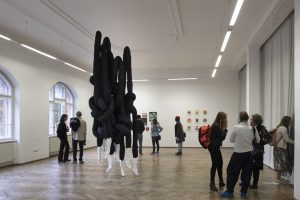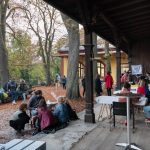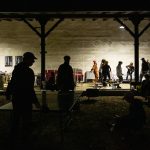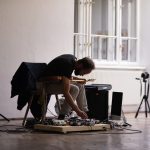 Location
Künstlerhaus Büchsenhausen
Weiherburggasse 13
6020 Innsbruck, Austria
+43 512 278627
office@buchsenhausen.at