Open Studios – Long Night of Museums 2016
With BKA (KATA Hinterlechner & BOSKO), Katharina Cibulka, Stephan Pirker, Maria Walcher and Nicole Weniger.
During this year's Long Night of Museums, those artists working in Künstlerhaus Büchsenhausen will be opening their studios to offer insights into the diverse production of contemporary art in the Tyrol.
The artists cordially invite you to visit them, take a good look around, and enjoy some stimulating conversation.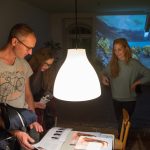 Location
Künstlerhaus Büchsenhausen
Weiherburggasse 13
6020 Innsbruck, Austria
+43 512 278627
office@buchsenhausen.at