Start Up Lectures 2010-11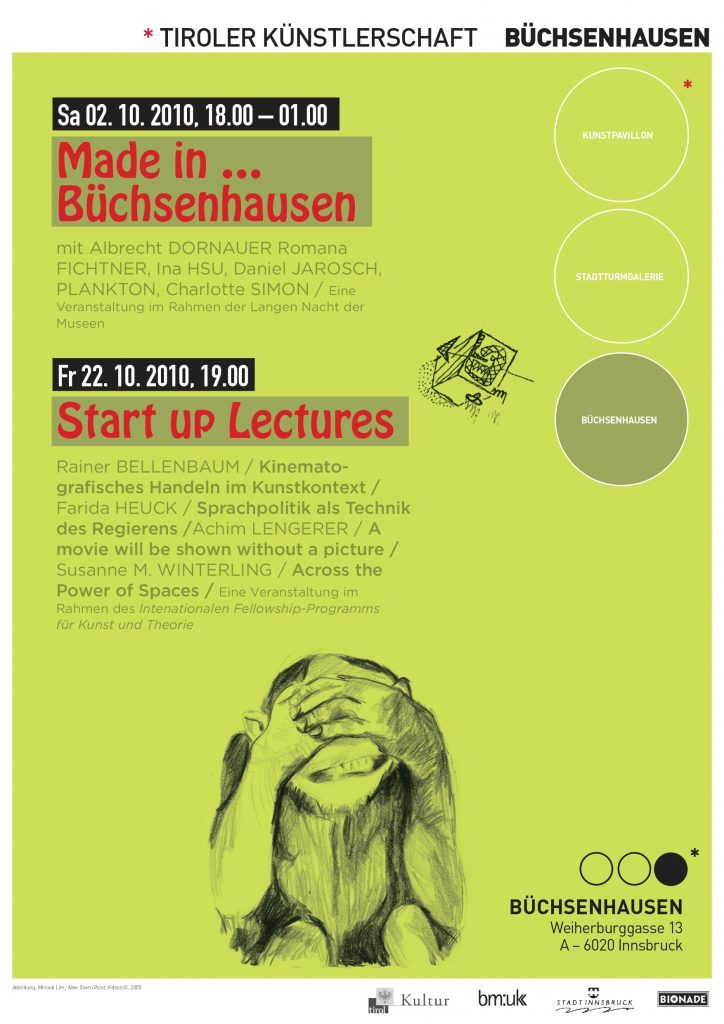 The Start Up Lectures of the Fellowship Program for Art and Theory 2010-11 will take place in Büchsenhausen on Friday, 22th October 2010, at 19.00.
In this context the new Fellows will introduce themselves and their work, and provide some insight into their respective proposals for the coming months.
• Rainer BELLENBAUM
Cinematographic Practices in the Art Context
• Farida HEUCK
Linguistic Policy as a Technique of Governance
• Achim LENGERER
A movie will be shown without a picture
• Susanne M. WINTERLING
Across the Power of Spaces
Susanne M. WINTERLING is an artist whose various projects deal with topics of identity and individuality in conflict-laden society. She lives in Berlin.
www.susannewinterling.de
Achim LENGERER is an artist based in Berlin and Amsterdam. In his work he deals with questions of language, which he realizes in performances or in installations. He has initiated several collaborative projects including Freitagsküche in Frankfurt and Berlin and voiceoverhead, a collaboration with artist Dani Gal. He has been running Scriptings, a traveling exhibition space and publishing house, since 2009. Scriptings functions as a discursive platform, building on and running parallel to Lengerer's projects. Scriptings is open to artists, writers, graphic designers, performers and publishers—all those who make use of "script" and "text" formats in their respective production processes.
www.scriptings.net
Farida HEUCK is a visual artist based in Berlin. Her work repeatedly confronts the area of tension between art and politics. She conceives of her multimedia site- and context-specific installations as an interface between the conditions and the media representation of migration. Central questions concern the inscribing of identity in everyday life, its stereotyping and the resulting criteria of inclusion and exclusion.
www.faridaheuck.net
Rainer BELLENBAUM (*1957) is a Berlin- and Vienna-based media studies scholar, film and art critic. His work includes, among other things, artistic short films and collaborations (as from 1983), camera work, research and television contributions (1986-2005), texts for a number of art magazines (Texte zur Kunst, springerin, Camera Austria) and book publications (since 2004).
Location
Künstlerhaus Büchsenhausen
Weiherburggasse 13
6020 Innsbruck, Austria
+43 512 278627
office@buchsenhausen.at