The unique features of the "100 dollar laptop" user interface were examined and demonstrated in a conversation between Jochen BECKER and Innsbruck artist and open source expert Michael HACKL (Plankton Labs).
Becker writes about the "100-euro laptop" (At the time of the event, it was already known that the laptop would be more expensive.): "The worldwide web has larger holes in the Global South than in Europe and the United States. Meanwhile, Open Source and Creative Commons-organized copyleft movements have begun to question primarily Eurocentric free access to data in a self-critical way.
Access to knowledge and culture, which is increasingly taking a digital form, appears to be of existential importance. Now, in 2007, word has it that millions of so-called '100-dollar laptops' loaded with open source software are about to be delivered, allowing children and young people in the Global South free access to the worldwide web. The project forged at the MIT institute should enable participation in the globalized world. Concerns were voiced—particularly north of the digital divide—that food and drinking water supplies are far more important. Quite apart from the fact that it's not about a laptop or water as mutually exclusive alternatives, but at most a computer plus the option to add new sources to tap, the haughty subtext here claims to know what people in the slums of Brazil to Libya should do with a computer. But trial experiments showed that young users knew how to use the device (run by hand-cranked electricity) even contrary to the instructions and, thanks to the light from the screen, were able illuminate their electricity-less huts. What remains to be seen how millions of wirelessly-connected kids will be spreading their world view—or take data entry jobs as cheap, outsourced labor for large corporations."
Michael Hackl is co-founder of Plankton Labs (2002-11), a heterogenous group of enthusiasts from various educational backgrounds and professional disciplines. Their works and projects include critical-ironic investigations of current media realities.
Jochen BECKER works as an author, lecturer and curator. He is a founding member of metroZones—Center for Urban Affairs and has (co-)edited several books including bignes? (2001); Kabul/Teheran 1979ff (2006) and Urban Prayers (2011), and (co-)curated exhibitions such as the Urban Cultures of Global Prayers (2012/13, NGBK Berlin, Camera Austria, Graz) and Self Made Urbanism Rome, NGBK Berlin, Teatro Valle Occupato Rome (2013). He is artistic director of the Global Prayers project at Haus der Kulturen der Welt (Berlin) and will begin a position as director of the art and architecture program at the Royal Institute of Art, Stockholm in 2014.
www.metroZones.info
www.globalPrayers.info
www.LearningFrom.com
www.SMUR.eu
Michael HACKL is co-founder of Plankton Labs (2002-11), a heterogenous group of enthusiasts from various educational backgrounds and professional disciplines. Their works and projects include critical-ironic investigations of current media realities.
www.plankton.net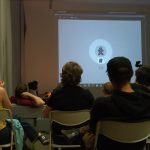 Location
Künstlerhaus Büchsenhausen
Weiherburggasse 13
6020 Innsbruck, Austria
+43 512 278627
office@buchsenhausen.at