Building Spaces for Solidary Encounters: Bodies, Technologies and Performativity
Luis GUERRA (Fellow) in conversation with Citlali HERNÁNDEZ (visual artist and designer)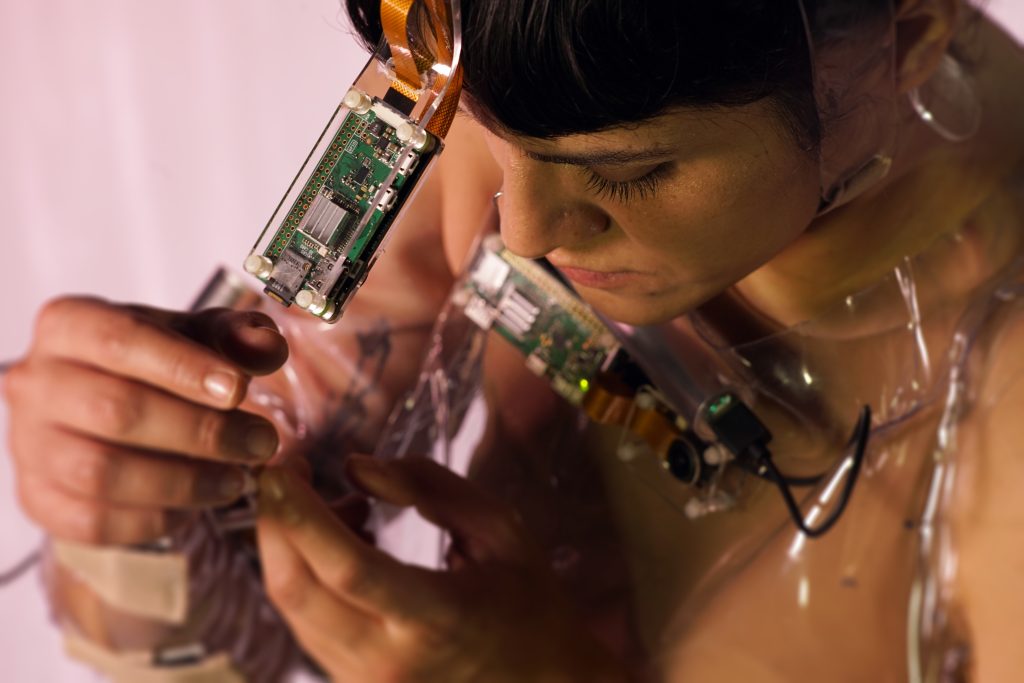 In Building Spaces for Solidary Encounters: Bodies, Technologies and Performativity, Citlali HERNÁNDEZ will present her artistic research, in particular her latest work produced during her research residency at Hangar Barcelona. After the presentation, Luis GUERRA and Hernández will discuss topics related to both Hernández's practice and the conceptual framework of Guerra's Gestural Philosophy.
At the center of the event will be an exploration of questions that cultural practitioners face in a world disrupted by industrial technologies. How can we find ways and manners to interrupt the resulting disruption of the bodily experience? Together they will think about the potential of art practices to create spaces for solidarity beyond the hegemonic politics of constant emergency. Perhaps it is time to build epistemologies of collaboration beyond and "against crisis epistemology" (Whyte, 2021: 84)?
THIS IS A HYBRID EVENT. You can either participate in the event on-site in Künstlerhaus Büchsenhausen or follow the event online, via Zoom and Facebook. You will receive the Zoom link after registering via Eventbrite.
Luis Guerra (*1974, Santiago de Chile) is a Visual Artist and Philosopher. Currently he is a University Researcher at the Academy of Fine Arts, University of the Arts Helsinki, Finland, and Fellow Researcher at the research group Post-foundational Contemporary Thought: Critical and theoretical analysis of the contemporary ontologies of negativity and the question of the violence of the foundation (2022–2025, University of Barcelona). Former Associate Professor of Aesthetics and Theory of the Arts at BAU University Center of Arts and Design Barcelona (2020-2022), GREDITS Design and Social Transformation Research Group Coordinator, and co-editor of the scientific review Immaterial, Design, Art and Society.
Luis Guerra did postdoctoral studies at the Center for Artistic Research (CfAR), University of the Arts Helsinki, 2019-2020. He was also Fellow Resident Artist at the Saastamoinen Foundation, Helsinki (2021) and Fellow grantee at the Kone Foundation, Helsinki (2020) with the artistic research project Wandering Echoes, rounds and litanies as performative maps under confinement. In 2022, he published his second book: Wandering Echoes, a handbook of operative losses, Errant Bodies Press, Berlin. In 2017 he published La Inexistencia del Arte, Brumaria Editores Madrid, after a research residency at the Museo Nacional Centro de Arte Reina Sofía, Madrid, thanks to the support of Santander Foundation (2015-2016).
His praxis inhabits a zone of visual encounters between drawings and acts, writings and objects. His work revolves around the imaginary line that Western culture has created between art and philosophy. Among the concepts framing his artistic research are three main notions: the un-domiciled, the echoicity and the inexistent.
https://www.luisguerra.org/
Citlali Hernández (1986, México City), is an artist who focuses on exploring how social and technological codes are inscribed in the way of inhabiting the body within the framework of electronic and digital arts. From a transdisciplinary perspective, she seeks to experience the materialities of performance and its entanglements with wires, pixels, and circuits to think of the body as a field of potentialities.
Citlali Hernández is currently working on her doctoral thesis at BAU Design and Arts University Center Barcelona, Spain, with the topic Body, Technology and Performativity: The Body in the Practices of New Media Art. She is also a University-level teacher on issues related to product design, digital manufacturing, and applied interaction. She is an active collaborator in Matics Barcelona (Digital Art Association) and artist-in-residence, together with Núria Nia, at Hangar.org with the project Cuerpo Satelital, supported by the Artistic Research Grant Fundación Banco Sabadell-Hangar.
https://www.turbulente.net/
Location
Künstlerhaus Büchsenhausen | Streaming via Zoom and Facebook
Registration for Zoom via Eventbrite