The Optical Unconscious of Fascist Becoming: A survey of the photographic holdings of the Stadtarchiv Innsbruck
Michael BAERS, Niko HOFINGER, Lukas MORSCHER, Sabine PITSCHEIDER
The present time is saturated by images of the past, and yet the past is always out of reach – a composite image constituted of disparate sources that can never be comprehensive. Throughout the fall of 2018 Michael Baers has been examining the digital holdings of the Stadtarchiv Innsbruck related to the historically significant spring of 1933 – a time when the National Socialists registered their first electoral successes in Austria. During the Büchsenhausen Focus Weeks in January 2019 Michael Baers has invited for his presentation three historians who will help "reading" selected images from his research. The aim is to identify and discuss the historical importance of small and nearly invisible details contained in the chosen photographs. The objective of this presentation could also be described as an attempt to examine the optical unconscious of imminent fascism (apologies to Walter Benjamin), as well as the social construction of Austrian/Innsbruck society during that period.
Audience participation is explicitly welcomed.
The event takes place in the context of the artistic investigation The Past is an Arrow into the Future by Michael BAERS.
Michael BAERS received his PhD from the Akademie der Bildenden Künste in 2014 from its dedicated artistic research department. He has exhibited his artistic work internationally in many prominent art institutions including the Museum für Angewandte Kunst Frankfurt am Main, the Haus der Kulturen der Welt, and the Van Abbemuseum. Since 2010 his work has focused on the cultural outcomes of conflict irresolution in the Middle East and North Africa. Since 2013 he has conducted research on a unique photographic project that emerged from the war between the people of Western Sahara and Morocco, Necessità dei Volti. This has involved lateral research into media theory and visual studies, as well as the history of western North African. Previously Baers has researched cultural politics in Israel and Palestine, in 2014 publishing online with the Haus der Kulturen der Welt a lengthy graphic work about the 2011 Picasso in Palestine project, An Oral History of Picasso in Palestine. He has also published comics and texts on contemporary art and artistic research, cultural politics, and urbanism, contributing to a variety of publication projects and internationally recognized journals, such as A-Prior, the e-flux journal, and Vector – critical research in context.
Niko HOFINGER is a historian, exhibition curator as well as self-employed software- and multimedia entrepreneur in Innsbruck. Since 1996 he has worked as a "house historian" for the local jewish community. His recent publication Maneks Listen (Engl. Manek's Lists, Limbusverlag 2018) is a tour de force through the life of Ernst Beschinsky, who died in 1987 and was the president of the Israelitische Kultusgemeinde (Engl. Jewish religious community) in Tyrol and Vorarlberg.
Lukas MORSCHER is a historian and jurist as well as manager of Stadtarchiv/Stadtmuseum Innsbruck. He had numerous publications, especially about the different aspects of Innsbruck's and Tyrol's regional history. His series Innsbrucker Alltagsleben (Engl. Innsbruck's Daily Life) has been published by Haymon since 2011.
Sabine PITSCHEIDER is a historian and since 2008 an university assistant at the Department of Contemporary History, University of Innsbruck. Her research addresses mainly Austrian History after 1945, with an emphasis on Tyrol, the history of political parties, social disciplining and the de-Nazification in Tyrol.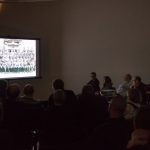 Location
Künstlerhaus Büchsenhausen
Weiherburggasse 13
6020 Innsbruck, Austria
+43 512 278627
office@buchsenhausen.at