'I have nothing to do with it'
Seçil YAYLALI & belit SAǦ
In this workshop Seçil Yaylalı and belit sağ concentrate on forms of censorship that become manifest even in the preparation phase of a work, e.g. self-censorship, or the censorship that may occur during prenegotiations with an institution. Not least, this is about the difficulty in recognizing censorship as such in this phase of work. With the aid of role play and an exchange of individual experience, the participants will concern themselves with this issue as well as the question of solidarity. First and foremost, the workshop is aimed at artists and creative workers with several years of professional experience, who are prepared to share their respective experiences and their knowledge in open exchange with one another – to learn from each other in this way.
Registration requested by email:
office@buchenshausen.at
belit sağ is a videomaker and visual artist living in Amsterdam. She studied mathematics in Ankara and audiovisual arts in Amsterdam. Her video background is rooted in video-activist groups in Ankara and Istanbul, where she co-initiated projects such as karahaber.org (2000-2007) and bak.ma (a growing online audiovisual archive of social movements in Turkey). Her recent video work focuses on 'the violence of representation' and 'representation of violence'. She attended residencies at the Rijksakademie van Beeldende Kunsten, Amsterdam in 2014-2015, and the International Studio and Curatorial Program, New York, in 2016. She has presented her work at museums, galleries, and film festivals worldwide, including MOCA, Taipei; Tütün Deposu, Istanbul; Tabakalera Film Seminar, San Sebastian; Toronto/Rotterdam/San Francisco/New York International Film Fest/International Documentary Film Fest. Amsterdam (IDFA); EYE Filmmuseum, Amsterdam; Documenta14, Kassel; Marabouparken, Stockholm.
bit.contrast.org
Seçil Yaylalı is an artist and educationalist with expertise in the fields of urban planning, industrial design and art. She was a co-founder of PASAJ, an artists' initiative based in Istanbul, which works together with various social communities and facilitates corresponding projects, exhibitions and workshops. Yaylalı teaches Design and Contemporary Art at the Technical University in Istanbul.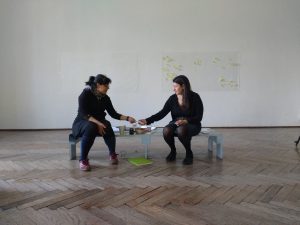 Location
Künstlerhaus Büchsenhausen
Weiherburggasse 13
6020 Innsbruck, Austria
+43 512 278627
office@buchsenhausen.at