In the Name of the Mother: Canonizing matrilineal artistic legacies
Judith BRADL (art historian, curator, image consultant), Binta DIAW (artist), Rosalyn D'MELLO (Fellow), Anna HAGEN (architect), Margareth KASERER (artist), Monica LOCASCIO (artist)
Künstlerhaus Büchsenhausen | Streaming on Zoom (registration via Eventbrite) | Streaming on Facebook
Through the realm of hospitality and the genre of kitchen discourse, Rosalyn D'MELLO will further her ongoing speculative thesis, In the Name of the Mother, a reconsideration of the unsung lives and non-canonized artwork of housewives, mystics, and spinsters alongside the matrilineal artistic inheritances of contemporary artists. The event is an intersectional feminist attempt to subvert institutional-supremacist-patriarchal notions of what is allowed to 'pass' as art.
Beginning with a Blind Jam Tasting, Rosalyn D'Mello will encourage willing participants to engage in light-hearted 'jam criticism', offering a sampling of jams made by locals in Tramin, her marital home in South Tyrol. The invited speakers will then inhabit the domain of public discourse to speak about matters of female subjectivity within the privacy of the domestic, thus contributing to feminist traditions of transgressing the boundaries of what is allowed to be called political art.
Binta DIAW will share with us her practice and perspectives concerning the black female body.

Monica LOCASCIO will reveal the focal crux of her artistic oeuvre, focusing on formal traditions learned from her grandmothers alongside other ancestral inheritances which inform all her work, whether textile or fermentation-based.
Drawing on her training as an architect, Anna HAGEN will base her reflections on the entity that is a Jam Jar and the situated nature of its immediate context by applying standardized architectural methodologies.
An invitation to follow excursions on a widely branched road network named 'becoming mother' at a blind hour of night, crashing twice, suddenly, into a wall, hiding the broken pieces under a thick rug, contriving a tiny trust revolution in their own body that connects bigger things than the world, then encountering the reality of it, which is more queer, more vulnerable, more of a challenge than possible to imagine are among some of the paths through which Margareth KASERER will lead us through.
Finally, Judith BRADL will reflect on the power and life of her great-grandmother Luise, primarily through the diary she left behind that documents her life as an orphan who never gave up the search for Heimat. What did it feel like for someone who couldn't call any place home? Through select readings and photographs, Bradl will introduce the public to the powerful intimacy of Luise's subjectivity.
As host, Rosalyn will quilt the various segments into a nourishing whole with interspersed offerings of poetry and other sonic interventions by or about housewives, mystics, and spinster artists.
Participants:
Rosalyn D'Mello (she/her) grew up as a "Bombay Goan" in Mumbai. She graduated in English Literature from St. Xavier's College, Mumbai, and earned her Master's degree from the Centre of English Studies, Jawaharlal Nehru University, Delhi. After a brief stint as a theatre critic in Mumbai, in 2010, she adopted Delhi as her base for almost ten years before moving to her current location in Tramin, an alpine town in the autonomous province of South Tyrol in Italy. Over her decade-long career as a freelancer, she has performed various callings as a feminist writer, art critic, columnist, essayist, editor, researcher, consultant, and proofreader across industries.
She is currently a TBA21 Ocean Fellowship 2021 Mentor. She is the author of the critically acclaimed memoir, A Handbook for my Lover. She is also the recipient of the India Foundation for the Arts arts research grant (2019-2020), which is supporting her ongoing research for her forthcoming book for Oxford University Press, India, based on her visits to Indian artists' studios. Since January 2016, she has been writing a weekly memoir-based, feminist column for mid-day. She writes fortnightly art columns for STIR while her criticism frequently appears in the Indian weekly magazine Open. Her writing has appeared in numerous literary anthologies, such as Dress (HarperCollins India, 2018), Walking towards Ourselves: Indian Women Tell their Stories (HarperCollins India, 2016; Hardie Grant Australia, 2016) and collections of art criticism, including Critical Writing Ensembles: Dhaka Art Summit 2016 (Office for Contemporary Art, Norway; Mousse Publishing, 2016) and Navigating the Planetary (Verlag für moderne Kunst, 2020). She was previously the editor of BLOUINARTINFO India (2012-2014) and was nominated for the Forbes' Best Emerging Art Writer Award in 2014. She was also shortlisted for the Prudential Eye Art Award for Best Writing on Asian Contemporary Art in 2014. She was an evaluator for The Andy Warhol Foundation Art Writers Grant in 2020.
https://www.rosalyndmello.com/
Binta DIAW (*1995) lives and works in Milan, Italy. The artist graduated from the Accademia di Belle Arti di Brera in Milan and the École Supérieure d'Art et Design in Grenoble.
Often declined in the form of installations of various sizes, Binta Diaw's plastic research is part of a philosophical reflection on the social phenomena that define our contemporary world, such as migration, the notion of belonging or the question of identity.
By fueling her research through contributions on intersectionality and feminism, Binta Diaw takes us into the exploration of multiple levels of identity; hers as a black woman in a Europeanized world, ours and that of a continuous crossroads of histories and geographies.
Binta Diaw's recent exhibitions include: Les Filons Géologiques, Palazzo Accursio (Bologna, 2021); Museo Novecento (Firenze, 2021); Dïà s p o r a, Galerie Cécile Fakhoury, (Abidjan, 2021); School of Water-Mediterranea, Young Artists Biennale (San Marino, 2021); I have this memory, it is not my own, Galerie Cécile Fakhoury (Dakar, 2020); Waves Between Us, Sandretto Re Rebaudengo Foundation (Guarene, 2020); Nero Sangue, MAGA Museum (Gallarate, 2020); In Search of Our Ancestor's Garden (Milan, 2020); Soil is an Inscribed Body, Savvy Contemporary (Berlin, 2019).
https://www.bintadiaw.com
Monica C. LOCASCIO (*1984) is a mixed-media artist whose work arrives as artifacts of her material and theoretical research on somatic therapies, epigenetics, molecular and biological geometries, fermentation and hierarchies of knowledge and power. LoCascio has lived in Saudi Arabia, Malaysia, Morocco and the United States. She received her BA with honors in New Media & Visual Arts in 2006 from Emerson College in Boston, and her MA with honors in Art&Science from Universität für Angewandte Kunst in Vienna, Austria. Her work has been shown at the Biennale Sessions at the Venice Biennale 2019, the Museum of Natural History of Vienna, The Academy of Fine Arts Krakow, CERN, and the Angewandte Innovation Lab, and serves on the inaugural board of the Medicine & Media Arts Initiative at UCLA. She lives and works in Vienna, Austria.
Anna HAGEN is an architect and book designer based in Vienna. Her main interests include participatory design processes and spontaneous urban development strategies. She currently focuses on social housing.
Margareth KASERER (*1983, Italy) works as a farmer and artist. She is founder and curator of the artist residency and festival Hotel Amazonas on a mountain farm in South Tyrol since 2012. Occasionally writing, sometimes DJing, repeatedly cooking for people. Being a mother to a child since 2020.
Judith BRADL was born and raised in Bolzano and graduated in Art History at the University of Vienna. She has been working as a curatorial assistant and researcher at the Kunsthistorisches Museum Vienna, assisting exhibition projects such as the Mark Rothko Retrospective, talks with Cecily Brown and Fiona Tan and collaborations with film director Wes Anderson and Fondazione Prada. She has founded a digital magazine including PR Consulting and Social Media Ambassadorships. Beyond that, Bradl has been collaborating with and is responsible for projects with brands and companies such as Schloss Ambras (Innsbruck), Fortuny Fabrics (Venice), Palais Liechtenstein (Vienna), The City of Salzburg, Bauhaus 100 (Berlin), Michael Lange Photography, Museée de l'Orangerie (Paris), and others.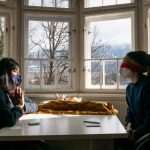 Location
Künstlerhaus Büchsenhausen | Streaming on Zoom and on Facebook
Registration for Zoom via Eventbrite