The Independent Life of Images
Aikaterini GEGISIAN
Based on archival material, unearthed through primary research at the moving image collections of the Library of Congress, the workshop investigates female representations in American newsreels of the postwar period (1945-1957). From the Heavenly Bodies of the pageant lines to the marching Girls of the military recruitment informationals, the workshop explores evidence of the changing role of women as a precursor of identity and civil liberty battles of the 60s and 70s. This is an opportunity to view rarely seen archive material and deconstruct them by isolating specific visual and sound patterns, identifying also recurrent narrative motifs. It is also a chance to evaluate the role of the moving image in the recording and telling of history, and to reflect on female bodies as symbols of national narratives or tools in the projection of power and progress.
Number of participants is limited to 15 persons! Registration via e-mail office@buchsenhausen.at, subject: Independent Life of Images.
The event takes place in the context of the artistic investigation Third Person (Plural) by Aikaterini GEGISIAN.
Aikaterini GEGISIAN is an artist of Greek-Armenian heritage who lives and works in the UK and Greece. Building on her contribution to the Armenian Pavilion, 56th Venice Biennale (2015 Golden Lion for best national participation), she has over the past two years developed a series of new commissions exploring the role of images in the construction of national and gendered identities, amongst others: Jewish Museum, Moscow; National Arts Museum of China, Beijing; Middlesbrough Institute of Modern Art; BALTIC, Newcastle; Calvert 22 Foundation, London; Kunsthalle Osnabruck; DEPO, Istanbul; Yermilov Centre, Ukraine. During 2018 she was a Research Fellow at the Library of Congress, Washington DC. Gegisian was Büchsenhausen Fellow in 2018-2019.
gegisian.com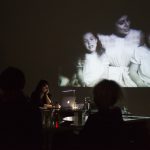 Location
Künstlerhaus Büchsenhausen
Weiherburggasse 13
6020 Innsbruck, Austria
+43 512 278627
office@buchsenhausen.at