Transgressions of the Real
Kush Badhwar | Yara Haskiel | Ash Moniz | Mykola Ridnyi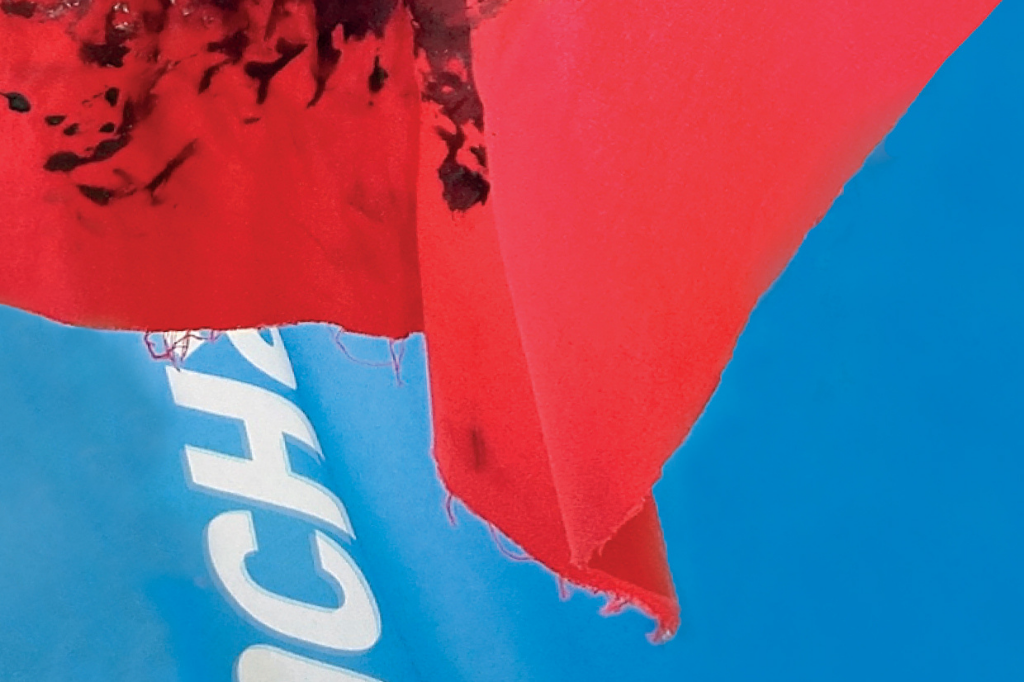 An exhibition of the Büchsenhausen Fellowship Program for Art and Theory 2020-21.
curated by Andrei Siclodi
OPENING: Thursday 17 June 2021, 18.00 – 22.00
DURATION OF THE EXHIBITION: 18 June 2021 – 7 August 2021
OPENING HOURS: Wed – Fri 12.00 – 18.00; Sat 11.00 – 15.00
The participants of the Fellowship Program 2020-21 show works produced in Büchsenhausen, hypostatizing the real as socio-political scenarios of the present. Counter-narratives of the founding of the state in regard to Telangana, India's youngest federal state; strategies of commemoration at socially contested sites in Thessaloniki; the phenomenon of "flags of convenience" and the legal and labor-social shifts that come along with this "territorial expansion" of national states, as well as the representation of violence without reproducing its images constitute the central themes around which the artistic works were developed.
Current information on events taking place at Künstlerhaus Büchsenhausen in the context of the exhibition can be found on our website.
The visit of the exhibition and participating in the events is possible only in accordance with the current legal COVID-19 regulations.
Artists:
Kush BADHWAR is an artist and filmmaker operating across media, art, cinematic and other social contexts. He is interested in the ecology of sound and image across stretches of time and political change. He believes in the potential of research and collectivity. To this end he has worked closely with wala, Word Sound Power, Frontyard Projects and Khanabadosh.
Selected screening or exhibition of his work includes at Addis Video Art Festival, the Flaherty Seminar, Tallinn Photomonth Biennale, Five Million Incidents, Experimenta Bangalore, Sarai Reader 09, Videobrasil, and Forum Expanded, Berlinale. He has also undertaken Pad.ma's Fellowship for Experiments with Video Archives and India Foundation of the Arts Archival Fellowship.
https://waydk.com/
Yara HASKIEL is a video artist and researcher. She studied Experimental Film and Art and Media at the University of Arts in Berlin and Hamburg with Hito Steyerl, Heinz Emigholz and Gerd Roscher. She holds a Master in Museology and Critical Theory from the Autonomous University of Barcelona. In 2014-15 she took part in the Independent Studies Program (PEI) at the Museum for Contemporary Art (MACBA) in Barcelona. Her collaborative exhibition project Personal Geographies was realized in Berlin and Belgrade (2016-2018). In 2019, her research project Assembly of Sleepless Matter was granted with the Artist Research Fellowship by the Senate Department for Culture and Europe, Berlin. Currently she is a PHD scholar of the Rosa-Luxemburg-Foundation and at the Visual Culture Department at Goldsmiths, London.
Central themes of her work are the connections between memory and (dis-) placement of minor and forgotten narratives and their trans-generational affective constellations. Further she focusses on micro politics and its precarities. Yara Haskiel generates video essays and multi-screen installations that embrace reflexivity by experimenting with video diary, found footage and new media.
https://vimeo.com/haskielproductions
Ash MONIZ is a multi-disciplinary artist whose practice spans performance, installation, video and film. Their research deals with the securitization of supply-chain logistics and its labor. Through interviews and performative collaborations, they work with the ways that stories are told, deconstructing the temporality of narrative structure in Just-In-Time transportation logistics. The word "plot" and its historical etymological connection between land ownership and the arrangement of dramatic structure on a stage, is foundational to how Moniz approaches the intersection of cartography and scenography. Working with artifacts, documents, and found media that span from London 1792 to Sokhna 2013, Moniz "plots" systematic procedures of motion within the flows of value, subject hood, and causality.
Along with a BA from OCAD University (Toronto), Moniz has participated in independent study programs such as Raw Academy (Dakar, Senegal), the Harun Farocki Institute (Berlin, Germany) and Mass Alexandria (Alexandria, Egypt). Moniz's exhibitions include solo shows at Townhouse Gallery (Cairo), Sishang Museum (Beijing), and Birch Contemporary (Toronto); duo exhibitions at Kelder Projects (London) and Pari Nadimi (Toronto); and group shows at Forum Expanded | Berlinale (Berlin), the Dakar Biennale (Dakar), and the Minsheng Museum (Shanghai) [among others]. They teach at the Cairo Institute for Liberal Arts and Sciences, and write art criticism for the Egyptian online-magazine Mada Masr. Moniz was a member of the artist collective ADL from 2014-2018, and were the assistant curator of the AMNUA Museum in Nanjing, China, in 2014/15.
Mykola RIDNYI is an artist, filmmaker and essayist based in Kyiv, Ukraine. He works across media, ranging from early political actions in public space to the fusion of site-specific installations, photography and the moving image which constitute the current focus of his practice. In recent films he experiments with nonlinear montage, and a collage of documentary and fiction. His way of reflecting social and political reality draws on the contrast between fragility and resilience of individual stories and collective histories. A connection with alternative times and phenomena, the influence of the past to the present and future, and the pressing polemic of manipulating historical memory born out of contemporary political agendas are among the main issues revealed in his engagements, initiatives, and projects.
Ridnyi has been a founding member of the SOSka group – an art collective originated from Kharkiv, Ukraine. He is a contributing editor of Prostory, an online magazine about art and society. His works has been exhibited in Venice biennale for contemporary art, The School of Kyiv – Kyiv biennale, Pinakothek der Moderne in Munich, daad galerie in Berlin, Transmediale in Berlin, Zentrum fur Kunst und Media in Karlsruhe, Galerie fur Zeitgenossische Kunst in Leipzig, Museum of Modern Art in Warsaw, Bonniers konsthall in Stockholm and others. He has been a scholar of Akademie der Kunst in Berlin, Iaspis in Stockholm, Gaude Polonia in Krakow and others.
http://www.mykolaridnyi.com/