Off the record
Lecture performance by Julie SAS
Echoing the Start Up Lecture from Oktober 2017 that marked the beginning of Julie Sas's fellowship Program for Art and Theory, she will conclude her work stay here with a lecture performance that will expose, in a specific language operation, some of the aspects and components of her artistic investigation Silent Red Alert – speculative materials on anonymity that she has conducted over the past nine months.
The lecture performance off the record will raise and investigate questions such as:
Why is the Man without Qualities composed of qualities without a man? What if the man was a woman? What is tested with Mister Teste? How to quote a quote? Can I say nothing when I mean everything? Can I mean nothing when I say nothing? Is anybody present? Is imposture a kind of posture? Can we be determined in indetermination? How to become the coming community? Am I what I am if I am what I am? Who is speaking?
Julie SAS is a French artist based in Paris. In her practice she combines installations, writing, performance and collaborative projects, in which she organizes spaces and situations around plays on meanings, norms and identities that demonstrate a tension with certain linguistic or social data. Sas' recent live installations present bodies involved in codified situations, particularly those linked to the production of public discourse, forms of self-representation, and quotation exercises. Those have led her to start developing long-time research and experimentation on the practice of anonymity and forms of invisibility in art, literature and musical fields.
juliesas.blogspot.com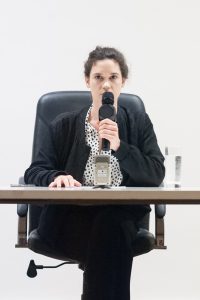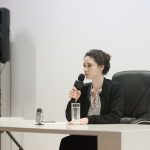 Location
Künstlerhaus Büchsenhausen
Weiherburggasse 13
6020 Innsbruck, Austria
+43 512 278627
office@buchsenhausen.at