Start Up Lectures & Uncanny Formations
The new 2016/17 Fellows' Presentations and Exhibition Opening
The so-called Start-Up Lectures of the International Fellowship Program for Art and Theory 2016/17 will take place in Büchsenhausen at 7 pm on Friday, 21st October 2016.
In this context the new fellows – Eva Egermann, Stefan Hayn, Kerstin Schroedinger, and Vladislav Shapovalov – will introduce themselves and their work, and provide some insight into their respective proposals for the coming months.
In 2016/17, the International Fellowship Program for Art and Theory will be focusing on projects concerned with physical deviance, educational spirits, apparently obsolete image production processes, and former geopolitics. The fellows Eva Egermann, Stefan Hayn, Kerstin Schroedinger and Vladislav Shapovalov were invited to work on their projects in Künstlerhaus Büchsenhausen – following success in a two-part application procedure, in which more than 270 artists and theorists participated – by the jury of experts comprising Iris Dressler (director of the Württembergischer Kunstverein Stutttgart and member of the committee in Künstlerhaus Büchsenhausen), Andrei Siclodi (curator, director of Künstlerhaus Büchsenhausen), and Andrea Thal (curator, Contemporary Image Collective, Cairo).
In her research-based practice Eva Egermann investigates oppositional practices, assimilation, social movements and popular cultures connected to deviance, abnormality, sickness and disability. In Büchsenhausen she will be working on the second issue of the Crip Magazine, which is dedicated to this range of themes. Artist and filmmaker Stefan Hayn intends to undertake a critical examination of contemporary premises and manifestations of pictorial narratives for children in various media. Kerstin Schroedinger will expand upon her research on the historical and material conditions of analogue film and incorporate this research into a film project, which she will be developing in collaboration with artist and filmmaker Oliver Husain (www.husain.de). Finally, Vladislav Shapovalov will continue his work on the project Image Diplomacy, which explores specific functions of the image in the system of political culture, as well as illuminating certain historical aspects in the construction of the political-imaginary through exhibition strategies and the medium of photography during the 20th century.
Exhibition: Uncanny Formations
Opening: Friday 21. October 2016, 7 p.m.
Duration of the Exhibition: 25.10. – 14.12.2016
Opening Hours: Tue, Wed 2 – 5 p.m. and by individual appointment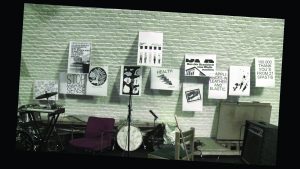 Location
Künstlerhaus Büchsenhausen
Weiherburggasse 13
6020 Innsbruck, Austria
+43 512 278627
office@buchsenhausen.at